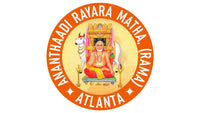 Shloka Classes RAMA Gurukula for Adults and Kids
Hare Srinivasa!
With the blessings of Sri. Hari Vaayu mattu Guru Rayaru, we have started shloka classes for adults and kids over telephone.
Gokula class (ages 3 and 5) - Monday from 7:30 PM till 8:00 PM
Kalpavruksha (ages 6 and 18) -Monday from 7:30 PM till 8:30 PM
Ladies (19 and above)- Kamadhenu -Monday from 8:30 PM till 9:45 PM
Men (19 and above)- Sumadhwa Viaya - Thursday from 7:45 PM till 9:15 PM
Bhagavadgita class - Saturday at 9:15 PM
Bhagavadgita and shloka classes for Indian students - Sunday at 8AM IST
For enrollment, please call us at 404-939-2833 or email us at info@atlantarayaramath.org
Location
Rayara Matha Info
Donations are tax exempted under IRC -501( C ) ( 3 )
Tax ID #47-4926883
1607, (next to Mahalakshmi Temple), Peachtree Parkway, Cumming, GA 30041
Saturday 10 AM-1 PM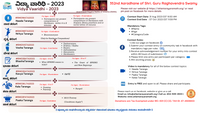 Our upcoming event
Hare Srinivasa!!!
Happy  Thursday!!! On the occasion of 352nd Rayara aaradhane, we are now welcoming entries for the 4th year of Vidya Vaaridhi virtual competitions - 2023 since Aug 31 2023 9:00 AM EST. Entries for the competitions are to be submitted on our Facebook page https://www.facebook.com/rayaraaardhane
Details and rules are in the attached flyers. Please spread the word amongst family and friends and submit your entries. Deadline to submit entries is Oct 7 2023, 11:59 PM EST. Please note we are accepting entries under below 7 categories for this year contest (Per the category rules):
📍 Naada Taranga - Solo Singing 
📍 Nritya Taranga - Solo Bharatanatyam
📍 Vesha Taranga - Solo Costume
📍 Bhasha Taranga - Essay (English Only)
📍 Kavya Taranga - Poetry (Kannada Only)
📍 Kala Taranga - Art
📍 Paaka Taranga - Cooking
Please participate and share with your family and friends. Feel free to reach out to us for any questions or concerns. All the best!

Thanks 
RAMA